Last weekend of 1000 Yard shots for the Loaded Bergara Rifle Drawing
---
Athlon Optics
1000 Yard Club Drawing
This is your last weekend to get the your 1000 Yard shots recorded and submitted for the Loaded Bergara Rifle. We draw Nov. 1st.
To be entered post a video of yourself hitting/shooting 1000 Yards with your Athlon Rifle Scope here:
  https://www.facebook.com/groups/1494881553963650/?source_id=434353193388688
---
---
WIN THIS PACKAGE:
THIS GUN IS LOADED!
5K Gun Setup!
Sponsors and Special Thanks to:
Athlon Optics – Cronus BTR
Bergara – B-14 HMR 6.5CM
MPA 34mm Single Bolt Action Scope Mount 
Leviathan Suppressor
Atlas Bipod
CTK Monopod
Area 419 Bipod Rail
Warne 20moa base rail
Long Range Arms -Send it
Magnetospeed V3
---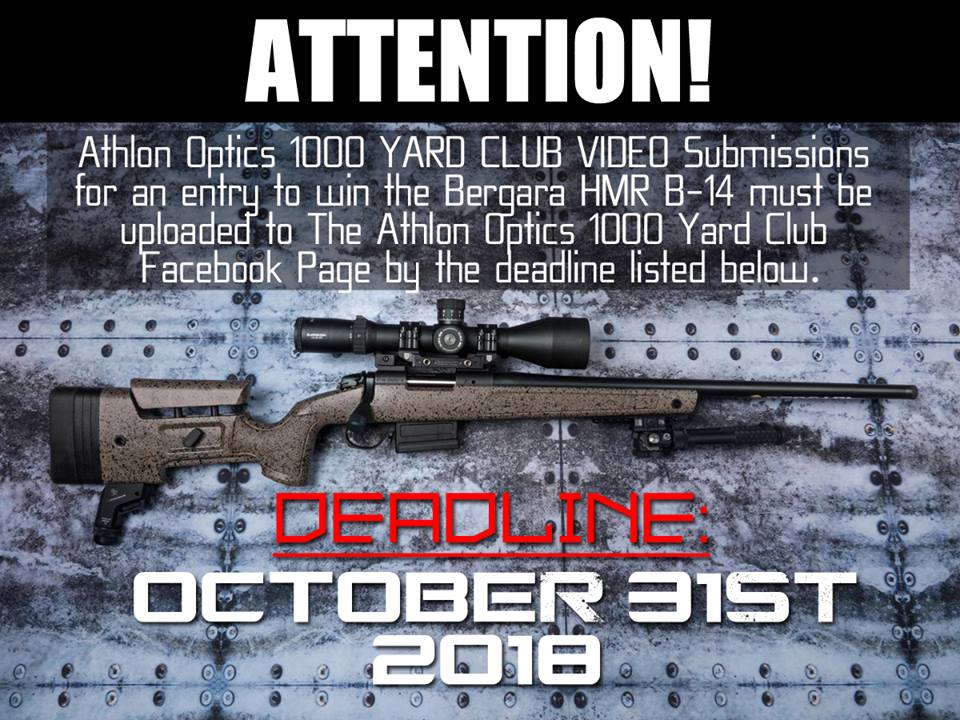 ---
https://www.facebook.com/athlonoptics/
https://www.facebook.com/groups/1494881553963650/
---