Prostaff Michael Lindsay
I compete in several different shooting disciplines, but since 2010 I have focused mainly on 3 Gun due to the fast pace and diversity of the sport. Follow me on Facebook and Instagram to see how addictive this sport can be!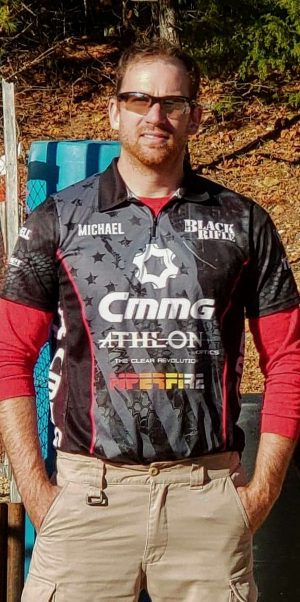 I was introduced to competitive shooting in 2002 when I joined my high school FFA Trap Team. I focused on clay sports for the next several years at both the high school and collegiate levels. In 2009, I attended my first 3 Gun match and was hooked immediately. I have competed regularly since 2010, refining my ability and my gear to find what works best for me. The list below is a brief overview of the current configurations of the guns that I use in competition.
Rifle: CMMG Endeavor 200 Series 5.56
Barrel: CMMG 16.1" Heavy Taper SBN 1:7
Optic: Athlon Cronus 1-6
Pistol: Tanfoglio Limited Custom 9mm
Finish: Black Nitride by H&M
Trigger: Henning
Shotgun: Benelli M2 12ga
Magazine Extension: Nordic Components MXT +9
Chokes: Muller
The highlight of my shooting career was qualifying for and competing in a nationally televised shooting competition known as the 3 Gun Nation Pro Series in 2016. The competition consisted of 8 elimination events with 6 competitors per event for a total of 48 of the best shooters in the country. Each event was comprised of 3 rounds, with 2 shooters eliminated in the first round and 1 shooter eliminated in the second and third rounds. The top 2 shooters from each event were invited to the finale to compete for the $50,000 prize. I made it to the last elimination round, falling short of the finale but earning the chance to return to the Pro Series for final season in 2017.
I'm always looking for a new challenge, and new ways to expand my skillset. In addition to 3 Gun, I also shoot USPSA, PRS, and DMR competitions.