Athlon Optics Supporting Young Shooters in Texas
Athlon Optics is proud to help sponsor the Texas Junior Rifle Team. The Texas Junior Rifle Team will receive 8 Helos BTR 1-4.5x Service Rifle Scopes, ensuring the team will always have an optic suitable to the matches they compete in. We are excited to follow this team of young shooters and see what they can accomplish! The riflescopes they are receiving is designed specifically for Service Rifle Match competitors. It features advanced fully multicoated optics, paired with the ATSR3 reticle-specifically designed to bracket the targets used in service rifle competitions, as well as a 24 MOA per revolution turret.
Texas Junior Rifle Team
The Texas Junior Rifle Team has been representing the Texas State Rifle Association at State and National Championships since the 1980's.  The team is composed of young Texans between the ages of 12-20 from all parts of the Great State of Texas. We use the AR15 service rifle as our target platform.
Currently, the team is composed of competitive junior shooters from the following Texas cities: Dallas/Fort Worth, Austin, Waco, Gatesville, Beaumont/Orange/Vidor (the Golden Triangle Area), Houston, Wichita Falls and Brazosport. The individuals assemble as a team to participate in area Regional Tournaments, The State Service Rifle Championships, and the US National matches at Camp Perry, Ohio. We hold an annual week-long team practice every summer prior to the National Matches.
The Texas Junior Rifle Team was incorporated as a 501C3 non-profit in 2018.
We have increased our fundraising efforts as well as our efforts to attract sponsors and donors. We have established a Midway USA Foundation account in efforts to provide financial stability for the team. We currently have multiple sponsors who contribute equipment and supplies to allow us to field young people with the best of equipment and ammunition.
The Texas Junior Rifle Team won the Magnificent 7 Trophy at the US National Matches in 2018 as National Junior Champions in Infantry Trophy Team Competition. The Team will have 18 junior competitors at the 2019 National Rifle Matches. We will field 4 Distinguished Riflemen on the team for 2019.
Meet The Team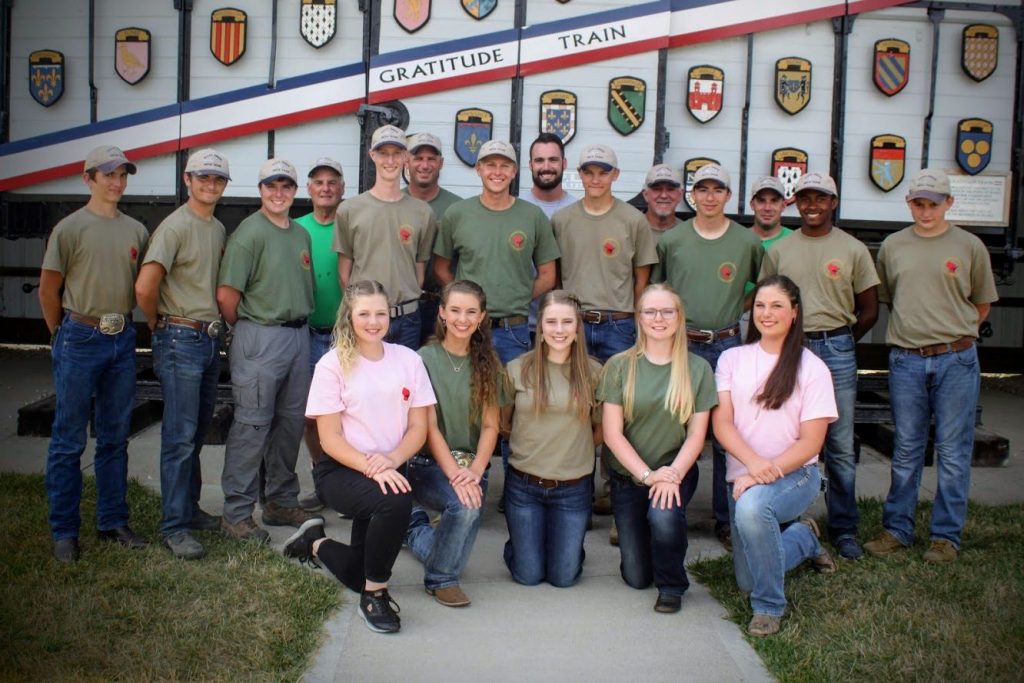 Madison Butler – Madison will turn 20 years of age in July of this year. Madison earned her Distinguished Rifleman's Badge in 2017 and is currently pursuing her High Master Classification. She has just completed her second year in university and has earned her associates degree. She will attend Tarleton State University starting in the fall of 2019 majoring in forensic nursing. In her spare time, she helps with her family fencing business and works cattle.
Chris McDaniels – Chris earned his Distinguished Rifle man's Badge in 2018. He has enlisted in the US Army and will report for basic training after competing as a member of the Texas Junior Rifle Team this year at Camp Perry, Ohio.
Charisma Owen – Charisma Owen is from Wichita Falls, Texas. She is 16 years old and a sophomore at Wichita Falls High School. Charisma earned her Distinguished Rifleman's badge in May of 2019.  Charisma focuses on her shooting (small bore, pistol, rifle) , but in her spare time raises heifers for 4H livestock competition.
Jessie Dunbar – Jessie is 18 years old and will graduate from high school in Gatesville, Texas in May of 2019. Jessie has been shooting competitive service rifle since she was 12 years old. Jessie is a part time librarian and will attend Texas A&M University in the Fall where she will join the Texas A&M ROTC Service Rifle Team.
Colton Giesecke – Colton earned his Distinguished Rifleman's Badge in 2017. He is 20 years of age and is currently pursuing his Business Administration degree at Texas Lutheran University in Seguin, Texas.
Mickey Hoysa – Mickey is a sophomore in Austin, Texas. Mickey has 10 of the 30 points necessary to earn the Distinguished Rifleman's badge. Mickey is a furrier in his spare time, shoeing and re-shoeing horses to earn spending money to support his service rifle shooting.