Rik Fancies the Ares BTR 4.5-27X50 Rifle Scope Reticle – Pics Included!
Athlon Optics
From Rik van der Vossen: From the Netherlands
"I'm impressed with the glass quality of the Ares BTR 4.5-27X50 FFP Rifle Scope. Even at the very edge of lenses, no defraction can be seen at all. Turrets feel nice, I only think the zoom ring turns a little heavy.
Took some pics just as reference (the real life view is MUCH better then these pictures by the way), I don't favor shooting ships, cars or signs 🙂 .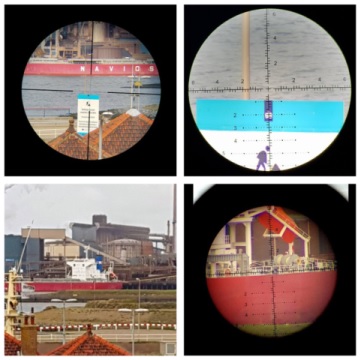 Top Pics: the blueish sign sits at about 187 yds.
Bottom Pics: the orange lifeboat on the ships stern is at about 1230 yds.
I hope I can do some testing at the range soon!"
__________________________________________
www.AthlonOptics.com toll-free: 1-855-913-5678
*Lifetime Unconditional & Transferable Warranty*
Find Your Local Athlon Dealer: http://athlonoptics.com/where-to-buy/
Check out Athlon Optics for all of your optics needs. We have award winning quality binoculars, rifle scopes, spotting scopes, red dots, magnifiers and many accessories! Perfect for long range, precision shooting, air gun, hunting, predator hunting, law enforcement, tactical or just banging steel for fun!
You can't beat the quality with the clarity of our glass with special lens coatings for a more vibrant image. Athlon Optics has got your back!
#athlonoptics
#athlonlifetimewarranty
#athlonprecision
#athlonquality
#athlonclarity
#athlonnation