Shonn from Montana is High on the Cronus 20-60X86 Spotting Scope
Testimony from Shonn Roberts:
"I am a firm believer in Athlon Optics, the quality to price ratio is the best in the optics business. I purchased their Cronus Spotting Scope 20-60×86 earlier this spring (it is an incredible product). I push the spotter to the limits quite frequently, and it remains excellent! Unfortunately, I had dropped the spotter off a few cliff benches while high country mule deer scouting in Montana!
The terrain is gnarly and unforgiving to say the least. I had ruined my spotting scope, thankfully Athlon optics always has your back. They stick to their warranty with no difficulty for the customer. The customer service throughout the troubles were excellent, they put me first just for customer satisfaction. I really appreciate a company that can maintain this quality of work. Give Athlon Optics​ a chance, you won't be disappointed! Thanks!" (Original Testimony Pictured)
Thank you Shonn for the kind words!! – AO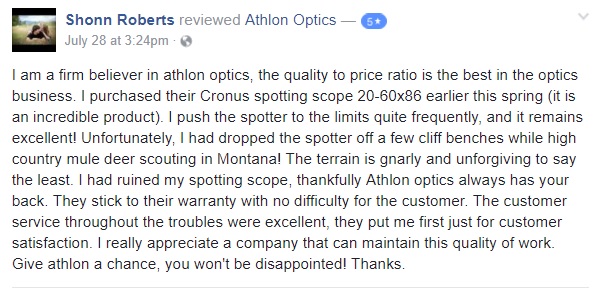 www.AthlonOptics.com toll-free: 1-855-913-5678
*Lifetime Unconditional & Transferable Warranty*
Find Your Local Athlon Dealer: https://athlonoptics.com/where-to-buy/
Check out Athlon Optics for all of your optics needs. We have award winning quality binoculars, rifle scopes, spotting scopes, red dots, magnifiers and many accessories! Perfect for long range, precision shooting, air gun, hunting, predator hunting, law enforcement, tactical or just banging steel for fun!
You can't beat the quality with the clarity of our glass with special lens coatings for a more vibrant image. Athlon Optics has got your back!
#athlonoptics
#athlonprecision
#athlonquality
#athlonclarity
#athlonnation